Strike Gold: How to Find Leads with External Intent Data
The cult classic movie, Glengarry Glen Ross paints a harsh reality of the world of sales. At the bottom line, the movie is all about a salesman's ability to close and the endless battle for a quality set of leads. And while perhaps exaggerated in its delivery, these two core messages ring true for marketing and sales teams alike. The ever foreboding challenge is finding and closing the 'Glengarry' leads, the ones that will guarantee conversions and revenue. So how do you ensure that, as a marketer, you do your part in finding those Glengarry leads for sales to close?
Achieving AIDA to ABC
In the B2B world, the notion of AIDA is key:
Attention
Interest
Decision
Action
Predictive lead scoring, personalization engines, and segment builders have evolved to help marketers find qualified leads and salespeople pursue them, but they can sometimes fall short on accurately delivering on the "Attention" and "Interest" areas of target audiences, making the success of "Decision" and "Action" at best an educated guess. And marketers are only as good as the tools they are equipped with.
Enter external intent data. Much like a FICO score provides a holistic view of a customer's credit history by using collectively shared information from different banks, external intent data provides a business with an understanding of what an individual, a department, or a company in a specific location is most interested in. Through a large cooperative of B2B media companies, external intent data companies monitor a range of audience interactions with your company such as collateral downloads, tradeshow booth visits, articles read, webinar and video views, social engagement, etc.). This external intent data is consolidated and categorized into a range of different topics and then benchmarks are created against each, allowing you to identify when certain topics are experiencing a surge of interest.
The result is moving beyond the traditional batch and blast approach to understanding when you have the attention of your target audience and knowing exactly what they are interested in. And when this data is integrated with your marketing automation and CRM systems, you're armed with key indicators of when marketing or sales should engage with each individual at an optimal time during the decision-making process, thus improving the ability to Always Be Closing (ABC).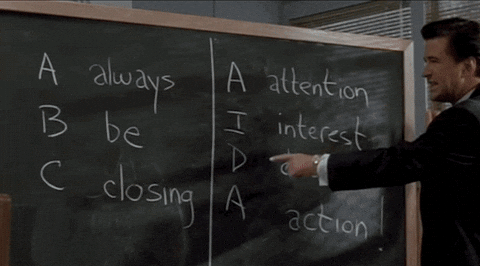 No More Weak Leads
In the movie, sales are won through slick coaxing and by playing on a prospect's insecurities; in the age of information, relevance and authenticity are quickly becoming the new norm.
So what does this mean? Often, demand for your product or service already exists, but it's all about finding the right behaviors that indicate this and using it to inform your marketing campaigns. While an email respondent is valuable, an email respondent that is in a relevant research surge, as informed by external intent data, is much more likely to net an immediate sales opportunity. This added layer of data allows marketers and salespeople to understand the difference between the curious content junkies and those that are accessing content based on a current initiatives–ultimately weeding out the weak leads.
Take for example a recent VM Turbo campaign promoting an ebook download on their hybrid cloud. When reaching out to surging contacts who responded to an email campaign, they saw a 51% lift in open rates when compared to a control group that was non-surging. Further validating the correlation between intent and engagement, their sales team reported that when they followed up with customers by phone, the individuals from the surge group were more engaged and their conversations much more in-depth. Overall, 80% of all of the opportunities created from the campaign originated from the surge group.
Making the Most of Glengarry Leads
Integrating behavioral intent data into your marketing automation instance requires a few foundational steps. First, it's critical to have an understanding of your sales team's strategy and align your topics. Once your topics are agreed upon and selected, an external intent data provider will be able to append these relevant topics to contacts inside of your marketing automation system. After you create your campaign and run it, you will need to close the loop back with your sales team, ensuring that they follow up on any interactions, especially with individuals in the surge group. The key to success is not only through delivering targeted content to an already interested group, but also in the follow-up conversations, which result in new opportunities.
External intent data allows you to take a customer-centric approach, means that your prospects are getting content that they are interested in at a timely point in their decision-making process and it allows you to plan and distribute your content more strategically. Ultimately it opens up a way to uncover your Glengarry leads.
Have you already integrated external intent data into your marketing campaigns? I'd love to hear about your experience in the comments below.